Why You Should Wrap Your Boat This Summer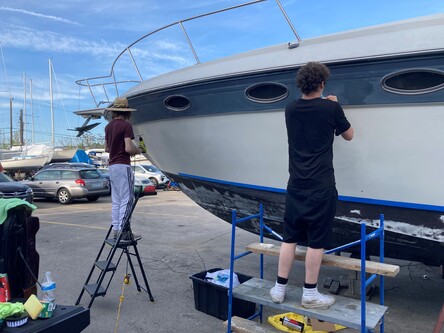 Are you an avid boater?
Tired of looking at the same boat year after year?
Applying vinyl wrap or graphics can transform your boat and make it appear brand new!
Vinyl wrapping is common for cars and is fast becoming a popular alternative to painting boats.
How Do Boat Wraps Work?
A vinyl film is applied over your boat's original exterior, protecting it and allowing you to change the design. If you don't want to wrap your entire boat, there are partial wrap options and even interior wrap options. Boat wraps are estimated to last 5-7 years!
Advantages of Boat Wraps
Durability – Vinyl wrap acts as a layer of protection against exterior damage, keeping the original paint and finish safe. It even protects against UV rays that can fade the boat's paint. When you're bumping along the waves or putting the boat back on the trailer, you can breathe easy knowing how durable vinyl wrap is.
Minor Maintenance – Unlike marine paint which needs waxing and recurring touch ups, boat wraps can be wiped or hosed down after an afternoon on the lake.
Customizable – Design options are limited with paint alone. Any design you can dream up, we can do! When you want to change it up, we can remove the vinyl wrap without damaging the boat. Don't forget about the interior, too! Rather than reupholstering seats and tearing out dash panels, vinyl wrap makes changing the interior easy.
Quick – The amount of time it takes to wrap your boat depends on its size, but the process is generally faster than painting. We're in the peak of boating season, so you don't want to miss out! You can be back out on the water faster than waiting for a professional marine painter to begin your project.
Ability to Add Graphics – Do you want to add your business' logo or other graphics options? Wraps are great for that! Not to mention, all boats need a name! Instead of painting a name on, a graphic option can be used, removed, and reused.
Uniquely Driven Concepts - Boat Wrap Graphics in Livonia
Whether it be for fishing boats, yachts, or sailboats, Elevated Restyling can provide quality boat wrap graphics in Livonia.
Make the most of your boating season! Schedule an appointment today!