Why Vinyl Wrap is Superior to Painting a Vehicle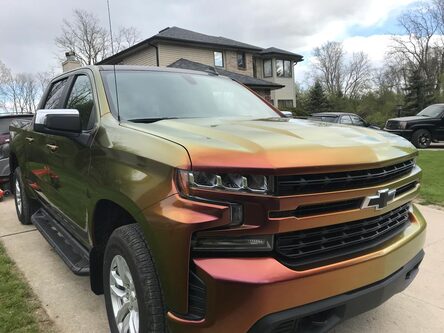 Want to change your vehicle's appearance?
Wondering whether you should go with vinyl wrap or paint?
If you want to change up your vehicle, you're not alone. Your vehicle is an investment, and you deserve to be 100% happy with its appearance! If you don't love how your vehicle looks, vinyl wraps are a quick, durable option when compared to paint.
Advantages of Vinyl Wraps
Durability – While a great paint job may last for years, it can be easily chipped or scraped, damaged by weather, and become faded by UV rays. Vinyl wrap helps protect your vehicle by being placed over the paint. The non-porous vinyl won't be as affected by weather and requires little maintenance.
Cost – Depending on your vehicle and what you'd like to get done, vinyl wrap can be more cost effective. The average paint job ranges from $3,000 to $10,000, while vinyl wraps average $2,000 to $5,000.
Time – Painting a vehicle can be a long process that can take weeks to complete. Vinyl wraps take significantly less time – a minimum of one day to a maximum of around a week. The result will look just as great, and you'll get to enjoy your new and improved vehicle faster!
Color and Finish Options – Vinyl wraps have significantly more options than paint. Vinyl wraps can be multicolor, have hue shifting colors, look like chrome, and have matte, gloss, and satin finishes. Vinyl wraps are also great for fleet, commercial, and custom wraps. The potential designs are endless! The perfect design you've dreamt of is possible with vinyl wraps!
Not Permanent – Once you paint your vehicle, there's no going back. If you like to change up your vehicle often or aren't happy with how the wrap looks, it can always be removed. When vinyl wraps are removed by a professional, the risk of damaging your vehicle is very low, so you can change your mind and try out new designs as often as you want!
Elevate Your Style with Vehicle Wraps in Livonia
Do you have big ideas for your vehicle that you want to bring to life?
If you're not happy with how your vehicle looks, Elevated Restyling can help! We've helped many achieve the vehicle of their dreams with vehicle wraps in Livonia, whether it be a car, motorcycle, boat, RV, jet ski, or more.
As a part of the Specialty Equipment Market Association (SEMA), we only use premium products that are designed to be safe and secure for all vehicles. You can also rest assured knowing our work is backed by a 12-month warranty.
The Vehicle of Your Dreams is A Call Away!
If you think vinyl wrap would be perfect for your vehicle, give us a call at (734)-744-4047 today! We can discuss your vehicle, your design, and then schedule an appointment to see your vehicle in-person.
Don't settle for a vehicle you aren't happy with! Elevate your style today.