Get Work Done on Your Vehicle Before Storing it for the Winter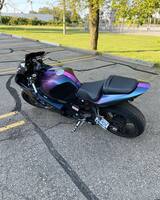 Are you preparing to have your vehicle stored this winter?
Did you know scheduling vehicle wrap services in the off-season can provide faster service?
Having aesthetic work done on your vehicle before you store it will keep it looking better for longer.
Benefits of getting vinyl wrapping in the off-season:
A winter investment - Getting your vehicle worked on before storage ensures a beautiful vehicle waiting to be driven in the spring.
Kept safe - When you store your vehicle after fresh vinyl wrapping, you can rest assured knowing your vehicle is safe and protected.
Speedy process - Scheduling work in the off-season means less wait time. Most vehicle owners are focused on getting work done in the spring or summer.
Added protection - Vinyl wrap is not only nice to look at, but it also helps protect your vehicle!
Versatile - If you decide in the spring you no longer like the color of the wrap you got done in the winter, it's easy to change!
Minor Maintenance - Unlike paint that chips easily and fades in the sun, your wrap just needs to be cleaned or wiped down to look good as new!
Invest in Style this Winter - Car, Boat, and Motorcycle Wraps in Livonia
Elevated Restyling has you covered if you're looking for car, boat, or motorcycle wraps in Livonia! Window tinting, ceramic coating, and paint protection film services are also a great investment before winter!
Contact us or give us a call at (734)-744-4047 to schedule an appointment!