Why Protect Your Vinyl Wrap or Paint with Ceramic Coating?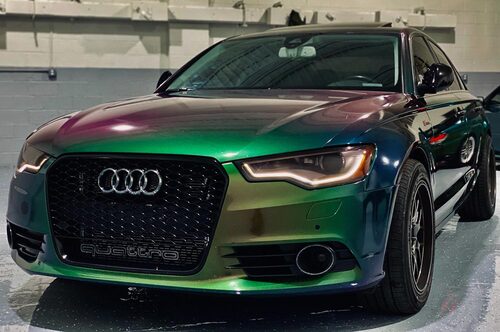 Do you want to protect your vehicle's paint or vinyl wrap?
Looking for an easier, more permanent solution than waxes and sealants?
Ceramic coating is a semi-permanent way to protect the outside of your vehicle with little maintenance.
What is Ceramic Coating?
Ceramic coating is a hydrophobic (water-repellant) compound of silica and titanium that bonds to your vehicle's surface, creating a protective, clear glass-like coat over your vinyl wrap or paint.
Benefits of Using Ceramic Coating:
Protects Your Vehicle's Exterior – Ceramic coating can be placed on top of vinyl wraps and vehicle paint as a protective coat against chipping & scratches, UV rays, and weather. Rocks and other potentially damaging elements will hit the ceramic coating layer, not your vinyl wrap or paint. The sun's UV rays can oxidize and fade your vehicle's paint, but with ceramic coating, the rays won't reach the paint. Since ceramic coating is hydrophobic, rain, snow, and other liquids will roll right off your vehicle.
Low Maintenance – Ceramic coating lasts longer than waxes and requires less maintenance. Depending on the type of professional coating, ceramic coats can last anywhere from 2 to 5 years. The only maintenance ceramic coats require is washing off any dirt or grime that isn't wicked away by the coat. Ceramic coats are so easy, you can almost forget about them!
Improves the Look of Your Vehicle – Ceramic coating can provide your vehicle with a glossy shine that emphasizes your paint or vinyl wrap and will keep it looking great longer than wax alone. If you have a matte wrap or paint job, there are coatings that will keep your vehicle matte.
Protect Your Vehicle with Ceramic Coating in Livonia
You've wrapped or painted your vehicle exactly how you want it: why not protect it?
At Elevated Restyling, we can help you protect your investment by applying ceramic coating in Livonia.
Elevate Your Style
For fast, friendly service, choose Elevated Restyling! Our aim is to exceed your expectations and provide professionally trained installation for our community. Everything from your vehicle, business or home – we ELEVATE it to the next level!
If you're looking for ceramic coating in Livonia, contact us today.