The Different Types of Window Tints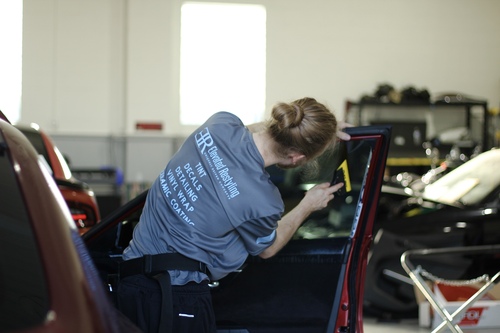 Do you want to erase glare from the sun while riding in style?
A window tint may be right for you!
There are many types of window tints with their own pros and cons. At Elevated Restyling, we use the highest quality nanoceramic window tint.
Dyed Window Tint
Dyed window tint consists of an adhesive layer that sticks to your window, a layer of dye, and a protective topcoat. This is the least expensive type of tint and is usually only used for aesthetic reasons. Over time, dyed tint fades but it does provide privacy and can keep your car cooler by absorbing heat.
Metalized Window Tint
Metalized window tint is 4 layers thick – an adhesive layer bonds to your windows, the second layer blocks UV and infrared rays, the third layer contains metallic particles that reflect heat and give your windows a darker appearance, and the final layer is a protective topcoat. Metalized tints block glare, reduce heat, and don't fade. However, the metallic particles can mess with the technology in your car, like your radio and cell phone.
Hybrid Window Tint
A hybrid window tint uses a mix of elements from dyed and metalized window tints.
They're made of a base adhesive layer, a dyed and metalized layer, and protective topcoat. Hybrid window tints reduce heat, glare, and UV rays and doesn't interfere with electronics.
Carbon Window Tint
Carbon window tints are made of hundreds of microlayers of polymer and carbon. The carbon blocks infrared rays, reduces UV rays, and keeps your cabin cooler while being fade resistant. This is a more expensive option than the previous tints.
Ceramic Window Tint
Ceramic window tint is the highest quality tint. It's more expensive, but has the greatest benefits and lasts longer. Ceramic window tint is made of layers of polymer that contain ceramic particles. These particles reflect and absorb light, shield you from infrared and UV rays, and block heat. Ceramic tint doesn't fade over time. Elevated Restyling's nanoceramic tint works by manipulating ceramic at the molecular level to block certain wavelengths of energy from entering, giving you the ultimate visibility, heat and glare reduction, and safety from UV rays.
Professional Window Tinting in Livonia
Window tinting isn't just for cars! Install window tint on your motorcycles, boats, and house and office windows.
"They did an excellent job tinting my windows. They are very knowledgeable about the industry and gave great recommendation on what tint I should get."
See what other customers are saying!
To schedule your appointment for window tinting in Livonia, call 734-744-4047 or fill out our contact form.